The Sveti Naum Monastery sits on a hill alongside the National Park Galicica and looks out over the deep blue Lake Ohrid and Prespa Lake.
From the Monastery location, you can see Albania which borders the south side of the beautiful lake.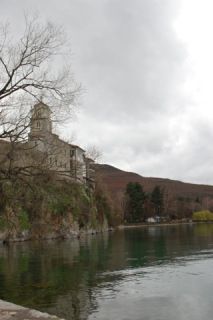 An absolute beauty, the Monastery was built by and later named for Sveti Naum who was most known for his work with the mentally ill and for this one time when he helped out a farmer whose horse had been attacked by a bear while plowing. Apparently, Sveti Naum's response was to hook the bear up to the plow therefore saving the farmer's crop.
The Fresco below "Harnessing the Bear" depicts said scene.