The 20 minute drive from my childhood home in Mattawan to the outdoor amphitheater in downtown Kalamazoo is full of men mowing sprawling green lawns, vinyl sided houses looking eerily similar in design and shape as the neighbors', sun rays shining down on diapered children, and tomatoes on bushes. As we near the city, houses become closer together and less alike and children, though still using the time to play furiously in the summer sunshine, are found on pavement and porches versus the green green grass of the suburbs.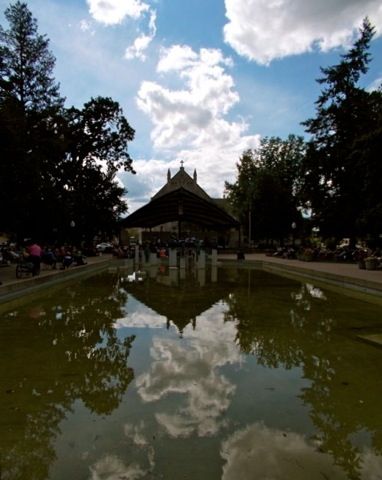 We arrive to a large crowd scattered comfortably around Bronson Park's bandshell and to people clapping for the opening act: Notified. Notified is a local A Cappella singing group and upon our arrival their voices bellowed renditions of Jason Mraz's "I Won't Give Up" and Simon and Garfunkel's "Bridge Over Troubled Water." Bronson Park, divided by a long reflecting pool which breaks the crowd into two diagonal lines, is the heart of Kalamazoo's downtown. Offering shade, a place to walk in the summer and in the winter, providing Candy Cane Lane and a classic Nativity scene; it's a place children remember with found memories once they've grown up and moved away. And every Sunday at 4 pm during the summer, it's a place that offers free Concerts in the Park.
"Look at all the different colors of lawn chairs," my mom says as we unfold our own.
I reply with a smile as I settle into my own bright blue chair.
We unwrap our shaved turkey sandwiches, sip on our Faygo sodas, and nibble on cherries as the music from the feature act, Gull Lake Jazz Orchestra, begins to stretch across the park, finding our ears and settling there pleasantly. The fast paced songs including Frank Mantooth's contemporary arrangement,"Young and Foolish," kept the audience entertained, the children dancing, and the dogs on leashes quiet. A burst of applause rang out for a particularly outstanding piano solo and then again for the vocalist belting out lyrics to a few different numbers.
I often describe Michigan as an underrated state and Kalamazoo, hardly even on any nonresident's radar, is no exception. But there is a romantic feel here created by more than the sway of a young couple's entwined arms and the jazz notes dancing off the stage. Kalamazoo, with its small but full parks and its active art council and its cobblestone downtown streets lined with local ice cream shops, art galleries, and Bells brewery, is no New York; but still it all feels very enchantingly metropolitan.
"Well, we'll see you next week," the lady in front of me said to no one and everyone at the same time.
"Probably not," I thought, the weight of the usual number of miles between myself and my hometown sitting on my heart, "but today was perfect."