We were late for breakfast, and we didn't even know it. When Ehran, the owner of our chosen restaurant, had proclaimed at last night's dinner that he would serve us Istanbul's best breakfast, my friends and I didn't realize that meant he would be graciously opening his lunch-and-dinner restaurant early just for us.
But that became clear as we strolled into his empty dining room at 10 a.m., where he had been waiting for us for nearly an hour. He waved off our apologies, greeting us as though we were his favorite nieces arriving to Christmas dinner and set to piling the table with plates.
We sat down and very quickly, our table was covered with Turkish coffees, fresh bread, sweet tomato wedges, crisp cucumber slices, mild raw peppers, a bowl full of homemade jelly, and plates of salty white cheeses.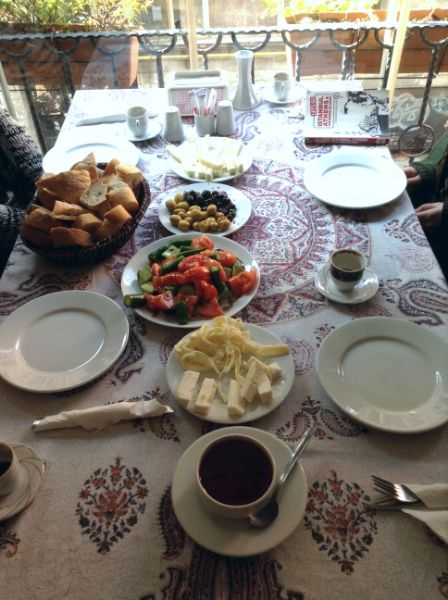 This course was followed by a plate heaping with fresh parsley leaves and dill branches, and although, I never think to eat either herb in that fashion, it was delicious and paired well with the cheeses and veggies. We were also served
b

örek--
spinach wrapped in a thin dough and then fried. The dough was thicker than that of the Balkanite burek; it very much resembled the texture of an egg roll. An edible reminder that we are where Europe meets Asia.
Just when we were throwing in our napkins and exclaiming our complete fullness, Ehran suddenly reappeared with a pan, hot of the stove, and steaming with "Turkish menmen omelette." He heaped spoonfuls of the dish, similar to a scramble -- eggs mixed with tomatoes and peppers and some sort of spicy deliciousness, onto our plates. And although already stuffed, none of us could refuse eating every single morsel of the savory delight.
We followed the whole meal with a second Turkish coffee. It was over that coffee that Ehran explained to us that he had come to Istanbul with nothing, and eventually, using his cooking skills and his hard work ethic, managed to escape a life of homelessness.
Touched and impressed by his story, we offered multiple expressions of gratitude for the hospitality, and we paid our tab. As we walked out the door, Ehran handed us each a safety pin adorned with a nazar, an eye-shaped bead intended to protect wearers from the evil eye. "Wear," he said, "to bring you protection from things bad."
Full but happy, we headed out to explore more of Istanbul's treasures.